A quiet revolution is forming.
We deserve to feel younger and healthier while experiencing an abundance of love and wealth in our lives. Join an elite group of women who embrace luxurious, vibrant and purposeful life at any age. We know it's never too late. Schedule an appointment today for health and wellness coaching and to learn more about additional services including acupuncture, stress management, and more. Your personal revolution starts now.
---
7 PROVOCATIVE Ways to Start Your Personal Revolution!
---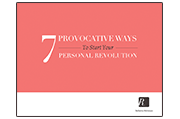 Revolutionaries don't wait for permission. Start finding your voice right now. My gift to you.
As an added bonus you will also receive our bi-weekly newsletters. You can unsubscribe at any time.