Pumpkin Muffin Mini Bites
The rich, satisfying flavors of fall don't have to add up to tons of extra carbs or unhealthy fats. Here's a warm and comforting recipe perfect for a relaxing weekend breakfast, yet tempting enough to stand in as a dessert—but without the regret later. Dig in!
Ingredients
1½ cups almond flour
¼ teaspoon sea salt
½ teaspoon baking soda
1 teaspoon ground cinnamon
½ teaspoon ground nutmeg
¼ teaspoon ground ginger
1 pinch ground cloves
2 tablespoons grapeseed oil
½ cup local grade B maple syrup or local raw honey
2 large eggs
1 cup fresh-baked pumpkin, winter squash, or canned pumpkin (BPA-free lining)
Instructions
In a large bowl, combine almond flour, salt, baking soda, cinnamon, nutmeg, ginger, and cloves.
Separately, in a Vitamix, puree oil, maple syrup, eggs, and pumpkin until smooth. Mix wet ingredients into dry.
Use paper liners or pre-cut 2-inch-square parchment pieces to line mini-muffin tins. Spoon batter into paper liners.
Bake at 350° for 25-35 minutes or until a toothpick stuck in the center of one of the muffins pulls out cleanly. Cool and serve.
These may also be served hot out of the oven with a dab of grass-fed butter or maple cream!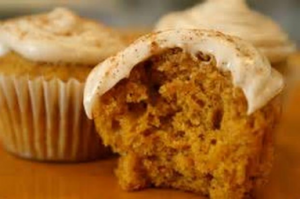 About Margaret
Margaret Lively is a Certified Nutrition Coach and founder of Decades of Health.
Margaret shows how to make sustainable nutritional changes, provides whole foods cooking lessons, and revamps kitchen pantries so there are always good food choices in the home. Learn more at www.decadesofhealth.com, or catch her on PBS's EatFree TV, a whole foods cooking show teaching simple recipes for cooking healthful meals every day.