Roberta Mittman's Story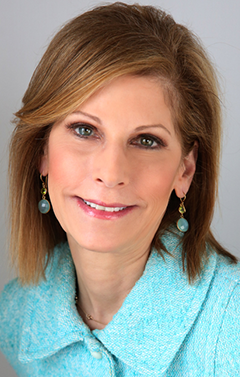 The moment I didn't recognize the woman over 40 looking back at me from the mirror, I knew I had reached a turning point.
Seeing a different person reflected back than the positive and vibrant woman I'd always known was painful.
My body felt and looked less firm. I showed weight gain much faster—and in different places than before. My energy levels had diminished, and I wasn't putting myself out there to make new friends and explore new activities. I worried about the huge void I'd have to fill when my youngest child went away to college.
What role would I play when my role of "mother" shifted into "empty nester"?
Would I be left behind?
Should I head out to pasture, relinquish my dreams and accept a diminished role without any meaningful goals or excitement in my life?
I felt frightened and depressed.
Could I really start over at this age?
Deep down, I knew my life had real, valuable purpose.
And I knew that NOW was the time to prepare to actively pursue a new career and direction.
"I wanted more, and I wasn't  going to settle for less."
Just because I was over 40 didn't mean I had to accept stomach bulge, or let the world dim the lights on my vibrancy and drive.
Just because I had a wonderful husband and family didn't mean I couldn't also have something exciting and fulfilling that was all my own.
For me, a holistic approach has always made sense—it's in my very DNA.
My father was a physician and a master of Western medicine with great compassion for his patients. But he was an inspiring trailblazer in another way, too, as a practitioner of acupuncture before anyone really knew what it was about.
So my husband and I sold our house, moved back to the city from the suburbs—and, in spite of my fears and insecurities, I began working on my Master's in Acupuncture!
A Holistic Education
Of course, it wasn't that easy. The intensive three-year program required that I go back and take college level science courses such as biology, anatomy, and physiology. I LOVED the material. But I'll admit it; some days were difficult and frustrating. Doubts crept in. I was the oldest person in class, which was scary at times, but I pushed forward, holding on tight to the vision of who I wanted to become.
And when I finished my training I had a new confidence that I could do anything I set my mind to.

While enjoying a successful acupuncture practice, I also added to my "toolbox" and became certified in several other holistic modalities, including specialized training in nutrition, allergies and sensitivities, and in working with the key emotional components that often lie beneath a particular physical issue.
I attended nutrition school and learned how to create a food and supplement plan that kept me energized, even on the run. I got my body back into shape and dropped three sizes. It had a ripple effect as success in one area led to success in many other areas. I gradually found the strength to believe in myself again and became passionate about helping others find their own source of strength.
In 2001, I founded the Park Avenue Center for Wellbeing. The Center fulfilled my dream for an integrative practice that brought other holistic professionals together. And I'll tell you a little secret. Doctors who refer patients to me become my clients too!
Your Own Quiet Revolution Has Begun
I was so scared of failing, and I kept my journey to transform my health, well-being, weight, and career to myself. But step-by-step I transformed my life. It was the start of what I call a "quiet revolution". I did it – and you can too!
While I enjoyed serving my local community in New York City, I knew it was my calling to expand my reach across the country. I still work with some clients in-office as a licensed acupuncturist, and work online and over the phone as a health and wellness coach. I'm an author and speaker.
And I'm excited to show YOU how to make optimal choices and reinvent yourself from the inside out, so you can be at the TOP of your priority list.
Experience life feeling trim, vibrant, abundant and full of possibilities!
It will be my pleasure to lead you on your own personal revolution. It's never too late.