May is nearly over, and you know what that means. Summer is just around the corner! This season, traditionally peppered with vacations and side-trips, new adventures, and just-because get-togethers with treasured family and friends is certainly something to look forward to.
It's all so exciting—and if we aren't vigilant about maintaining elite-level self-care during and between all the activities, it can also be exhausting.
Are you fueled and ready? Eating well is one of the best ways to prepare yourself for the high-energy summer you deserve. Fill your plate with nutritious, powerful foods that will help you build up and sustain the personal energy reserves and luxurious wellness you'll need to make the most of the season.
Berries
These luscious fruits are at their peak in spring and summer. The high water content, fiber, and natural sweetness of berries make them refreshing on a hot day without stimulating further cravings. But those bright, juicy flavors are just one reason to indulge in a mouthful of deliciousness: Berries are loaded with nutrition, too. From the antioxidants that help your body fight off damage caused by free radicals to the polyphenols that are now believed to protect brain health—well, what are you waiting for? Dig in!
Seeds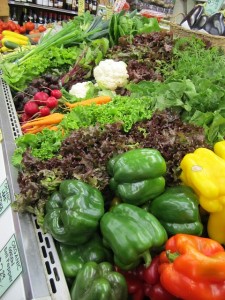 As much as these tiny morsels of flavor and crunch please the palate, they also pack a super healthful punch. Most any edible seed provides protein, iron, fiber, health-promoting fats…plenty of fabulously "good stuff" in a single, delicious serving. (My favorites: shelled hempseed, chia seeds, and flax.) Seeds make a smart snack—or toss a small handful of seeds on top to dial up the power of your breakfast, salad, entree, or veggie side dish. For a fabulous example of how seeds can pump up a meal, check out this recipe for a Brain Booster Smoothie.
Leafy greens
Spinach, beet greens, romaine, chard, watercress, dandelion, collards…most green vegetables pack high fiber, anti-aging and cancer-fighting antioxidants, and some essential minerals. When you shop for produce, be sure to pick up kale, possibly the most nutritionally valuable of any green. A single serving of this firm leaf exceeds the entire daily recommendation for vitamins K, C, and A, and offers at least two compounds associated with the prevention of cataracts and macular degeneration.
Spices
Not only do spices stimulate your palate, many of them can stimulate your immunity and energy, too. In particular, look for ways to add turmeric and ginger to your meals. Not only do they contribute depth and zing to food, they both are natural anti-inflammatories, helpful in relieving general pain and the congestion and sinus pressure of allergies. In addition, turmeric has been studied for its weight-loss benefits. Planning to hit the road? Ginger can offer soothing relief of the nausea and general malaise that some people experience while traveling.
…and a bonus… two effortless, no-prep additions
What's not to love about a booster you can simply add to what you're already eating? You don't need new recipes or extra time to enjoy the health and energy benefits of these supplements.
Maca powder: Derived from an edible root, maca was a staple for healing the body and boosting energy in ancient times—and modern studies have suggested it lives up to its long-term reputation. Maca root is bursting with nutrients including minerals, vitamins, amino acids (the building-blocks of protein) and fatty acids. For a quick and convenient boost, mix the powdered form of the root into your drink, cereal, or yogurt.
Nutritional yeast: This natural supplement is packed with protein, fiber, minerals, and vitamins—especially the B vitamins that help keep the brain and nervous system sharp and muscles strong. Sprinkled on top, its mild, cheesy flavor is a nice complement to vegetables or savory foods.
The best way to prepare for all the adventure ahead of you is to tune up your body—and eating well does that from the inside, out. Bonus: The abundance of pleasing flavors makes taking premier care of yourself a joy. Take a moment now to scan your pantry and plan how you might easily add more of these wonderfully healing and invigorating foods to your meal routines. Fuel up—a rewarding, vibrant season awaits!