Roberta Mittman in the Media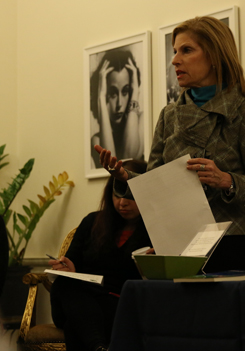 Part of leading a quiet revolution for women over 40 to redefine their age means spreading the word that it's never too late to attain the life and body you want.
I love teaching groups of women through workshops, "lunch and learns" and virtual lectures. And when study after study shows that the health and wellbeing of a business is a reflection on the health and wellbeing of its employees, cutting edge advice about self-care is more important than ever in the workplace.

I can't help it –- the excitement I feel about all the possibilities available to women at any stage in their lives is contagious. My workshops and lectures aren't for folks who just like to doze off in the back of the class. You'll want to be right up front -– and you'll have FUN hearing what I have to say about health, wellness, and more. Interactive and lively, my presentations are always full of the practical advice you've come to expect and participants will leave with health and wellness handouts, assessments and worksheets that integrate the message seamlessly into everyone's day to day.
While each speaking engagement can be carefully tailored to your needs, here are some of the topics I've been presenting recently:
Your Guide to Healthy Success:
Learn how to make optimal nutritional and lifestyle choices for increased energy, serenity, and professional and personal health.
GPS Your Stress:
Figure out where your stress originates and learn powerful stress management techniques for improved concentration, productivity and overall wellbeing.
The Weight Is Over Now:
Discover easy, practical weight-loss strategies for the workplace and home based dieting on the very latest research and action-inspiring steps.
You CAN Break That Habit:
We know better, but those little everyday actions called habits can bring success to a standstill.  Discover strategies to address food addictions, procrastination, and smoking developed from my years of experience with patients and clients across the country.
The Luxury Diet:
Eat rich. Look rich. Think rich. It's finally time to be you. And acknowledge that it feels amazing. Make the simple choices for a luxurious life that will pay huge dividends and ensure a vibrant and prosperous future with a healthy and energetic body to go with it.
Click here to get your organization or business onto my speaking schedule!