Hmm, how to get more of those missing omega-3s into the diet? Pair a lovely grilled salmon or mackerel with this fresh, pleasing salad, and you get not only healthy fats but a helping of fiber and vitamins, too.
I like to take full advantage of summer strawberries by eating them raw and adding them to my smoothies and salads. Here's a delicious way to enjoy them.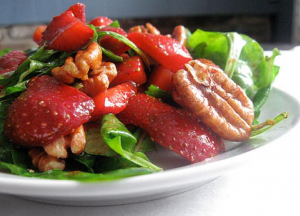 Arugula Salad With Strawberries & Walnuts
2016-08-23 10:02:07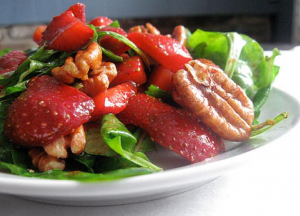 Ingredients
2 handfuls organic arugula, washed and patted dry
¼ c. thick-sliced fresh organic strawberries—best from your local farmer
1/8 c. walnut halves
olive oil
balsamic vinegar
salt and pepper
Instructions
Combine first three ingredients in a bowl. A wooden salad bowl is best. Drizzle with olive oil and balsamic vinegar (more balsamic than oil), but be careful not to drench. Sprinkle fresh sea salt and cracked black pepper.
Toss and enjoy!
Notes
About Margaret
Margaret Lively is a Certified Nutrition Coach and founder of Decades of Health.
Margaret shows how to make sustainable nutritional changes, provides whole foods cooking lessons, and revamps kitchen pantries so good food choices are always in the home. Learn more at www.decadesofhealth.com, or catch her on PBS's EatFree TV, a whole foods cooking show teaching simple recipes for cooking healthful meals every day.
Roberta Mittman https://www.robertamittman.com/