Tired of salad for lunch? Here's a satisfying veggie dish that's quick and easy to make the night before. Add some nuts for a protein boost, and it's a perfect midday brown-bag meal: Cauliflower Saffron Rice.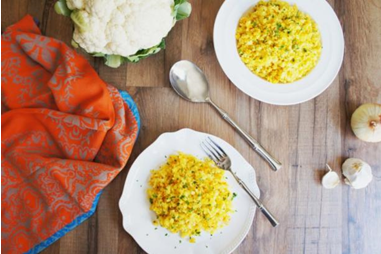 Cauliflower Saffron Rice
2017-03-12 12:39:33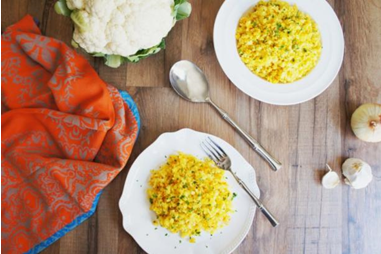 Ingredients
1 head organic cauliflower
2 pinches Spanish saffron
1 cup bone broth (store-bought organic broth, or just plain filtered water works great, too!)
Celtic sea salt
¼ cup rough-chopped organic parsley
Instructions
Remove florets from tough stems and pulse in a food processor (approximately 12-18 pulses) until cauliflower has a rice-like consistency.
Put "rice," broth, saffron, and a generous pinch or two of salt in a pan. Cover and cook over high heat for 3-5 minutes. Remove cover and allow any remaining liquid to evaporate while stirring. Watch how the color of the "rice" comes to life with the beautiful red saffron!
Turn off heat and add parsley. Serve in your favorite bowl.
Notes
About Margaret
Margaret Lively is a Certified Nutrition Coach and founder of Decades of Health.
Margaret shows how to make sustainable nutritional changes, provides whole foods cooking lessons, and revamps kitchen pantries so there are always good food choices in the home. Learn more at www.decadesofhealth.com, or catch her on PBS's EatFree TV, a whole foods cooking show teaching simple recipes for cooking healthful meals every day.
Roberta Mittman https://www.robertamittman.com/