Did you know that a pure, organically grown cabbage naturally attracts one of the microbes that assists and protects digestion? It's true! Here's a fun, simple way to prepare and turn that humble, healthful vegetable into something special.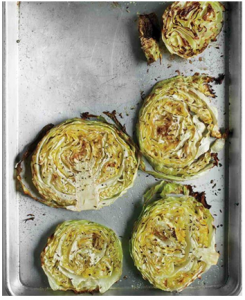 Gourmet Roasted Cabbage Dressed to the 9s
2016-03-21 12:25:36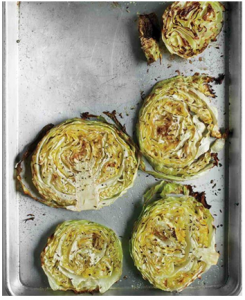 Ingredients
1 whole medium green cabbage
2+ tablespoons olive oil
sea salt and freshly ground black pepper
6 tablespoons grass-fed butter
4 tablespoons minced shallots
2 tablespoons stone-ground Dijon mustard
1 tsp. minced garlic
1 tsp. caraway seeds
Optional garnish: freshly chopped parsley and additional caraway seeds
Instructions
Pre-heat oven to 450 degrees.
Cut cabbage into 8 wedges: Start by cutting in half, then quartering each half to get 8 equal-sized pieces.
Line a baking sheet with parchment, and place the cabbage wedges on it. Using a pastry brush, brush cabbage wedges with olive oil on both sides. Then sprinkle each side with salt and pepper to taste.
Place the cabbage in the oven and roast for 10-12 minutes. Flip over each wedge and continue baking for 8-10 minutes more or until wedges are nicely browned.
While cabbage is roasting, start your sauce: In a small saucepan over medium heat, add 2 tablespoons olive oil, salt and pepper (to taste), butter, shallots, mustard, garlic, and caraway seeds. Stir together until butter is melted. Keep mixture warm, but don't cook any further.
Place wedges on a serving platter and drizzle with your warm sauce. Sprinkle fresh chopped parsley and a teaspoon of additional caraway seeds over top as a beautiful garnish and serve!
Notes
About Margaret
Margaret Lively is a Certified Nutrition Coach and founder of Decades of Health.
Margaret shows how to make sustainable nutritional changes, provides whole foods cooking lessons, and revamps kitchen pantries so there are always good food choices in the home. Learn more at www.decadesofhealth.com, or catch her on PBS's EatFree TV, a whole foods cooking show teaching simple recipes for cooking healthful meals every day.
Roberta Mittman https://www.robertamittman.com/