All the tomato and cheesy, gooey goodness of the traditional version—but without the grain!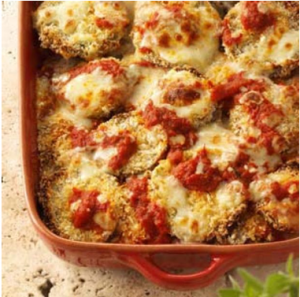 Grain-Free Eggplant Parmigiana
2016-10-25 16:44:01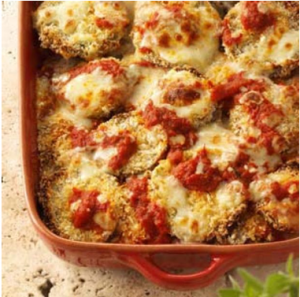 Ingredients
2 small or 1 large eggplant, peeled and sliced into 1-inch rounds (for this recipe, we used 12 rounds)
salt (will be washed off so maybe you don't want the most expensive kind)
1 cup coconut flour
3 eggs
1 cup nut flour (I use almond, but any type you prefer will work.)
1 cup coconut oil or tallow for frying
2 cups organic tomato sauce (look for one with no added sugar)
1 large ball fresh mozzarella, thinly sliced
1 cup Parmesan cheese, grated (vary amount to taste)
3 tablespoons fresh ricotta
¼ cup fresh parsley, finely chopped
freshly ground black pepper
Instructions
Liberally sprinkle eggplant slices with salt on both sides, then lay flat on a cookie sheet for 1 hour. This will remove excess liquid and bitterness from the eggplant.
Rinse the eggplant and towel dry completely.
Heat oil or tallow in large skillet on medium-high heat, making sure it's hot enough to fry. Dip each eggplant slice in the coconut flour, then egg wash, and finally the nut flour. Fry to a golden brown on both sides. Remove fried eggplant and place on paper towel to drain excess fat. Repeat this process for all 12 slices.
Preheat oven to 350 degrees.
Cover the bottom of a casserole with a light coating of tomato sauce. Lay 6 slices of fried eggplant on top of the sauce. Spread more tomato sauce on top of the fried eggplant (it doesn't have to cover perfectly), and add a slice of mozzarella to the top of each eggplant. Sprinkle Parmesan cheese on top of this first layer.
For the second layer, spread a few more dollops of tomato sauce and add some of the ricotta cheese on first layer of eggplant. Layer remaining eggplant over it, then sprinkle remaining Parmesan on top of finished layers.
Bake at 350 degrees for 40 minutes. Then turn the oven to a low broil for 3-4 minutes to carefully brown the top of your casserole.
Remove from oven and sprinkle with parsley and black pepper. Give it a few minutes to cool and set before serving. ENJOY!
Notes
About Margaret
Margaret Lively is a Certified Nutrition Coach and founder of Decades of Health.
Margaret shows how to make sustainable nutritional changes, provides whole foods cooking lessons, and revamps kitchen pantries so there are always good food choices in the home. Learn more at www.decadesofhealth.com, or catch her on PBS's EatFree TV, a whole foods cooking show teaching simple recipes for cooking healthful meals every day.
Roberta Mittman https://www.robertamittman.com/