Have you had your fill of heavy party food yet? Here's a simple, delicious, and nutritious high-fiber option that makes a great alternative to yet another tray of chips and dip.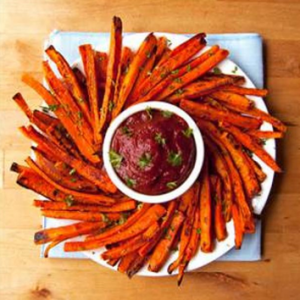 No Fry Fries
2016-12-13 10:49:56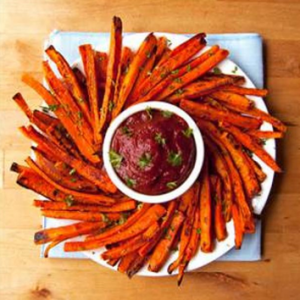 This recipe can be made from a number of different root veggies. Choose the one that best suits your taste buds.
Ingredients
root vegetable (either 8 carrots; 3-4 sweet potatoes, depending on size; 8 parsnips; or 3-4 jicamas, depending on size)
3 tablespoons olive oil
sea salt and fresh-ground black pepper
1 tablespoon dried tarragon, or other dried herb of your choosing
Instructions
Preheat oven to 450 degrees.
Slice root veggies lengthwise into ¼-inch thick "fries." In a bowl, toss fries with olive oil, salt, pepper, and dried herb of choice, to taste.
Lay fries flat on a baking sheet and roast for 20 minutes or until crisp-tender.
Make sure you get some before everyone gobbles them up!
Notes
About Margaret
Margaret Lively is a Certified Nutrition Coach and founder of Decades of Health.
Margaret shows how to make sustainable nutritional changes, provides whole foods cooking lessons, and revamps kitchen pantries so there are always good food choices in the home. Learn more at www.decadesofhealth.com, or catch her on PBS's EatFree TV, a whole foods cooking show teaching simple recipes for cooking healthful meals every day.
Roberta Mittman https://www.robertamittman.com/