Think vegetables are "boring"? Maybe you just haven't seen one at its versatile best lately. Here's a delightfully fun twist on fresh summer veggies that's sure to please both your senses and your body's needs.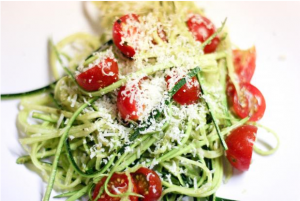 Zucchini Noodles with Pesto
2016-08-06 13:14:01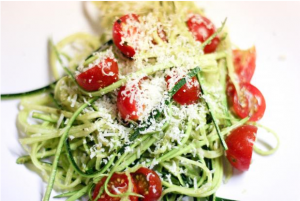 Ingredients
4 small zucchinis (yellow or green or use both!), ends trimmed
2 cups packed fresh basil leaves
2 cloves garlic
1/3 cup extra-virgin olive oil
2 teaspoons fresh lemon juice
¼ cup freshly grated Parmesan cheese
Celtic sea salt and freshly ground black pepper to taste
Cherry or grape tomatoes (optional)
Instructions
Use a Paderno Spiral Veggie Slicer to turn the zucchini into long strands of pasta.* Set aside.
Separately, combine the basil and garlic in a food processor and pulse until coarsely chopped. Slowly add the olive oil in a constant stream while the food processor is on. Stop the machine and scrape down the sides of the food processor with a rubber spatula. Add the lemon juice and Parmesan cheese. Pulse until blended. Season with salt and pepper.
Add the pesto to the zucchini noodles. Toss until well coated. Top with tomatoes, if using. Serve at room temperature or chilled.
*You can also sauté the noodles for 2-3 minutes in olive oil and chopped garlic to heat and soften, but don't overcook or the noodles will become watery and soggy.
Notes
About Margaret
Margaret Lively is a Certified Nutrition Coach and founder of Decades of Health.
Margaret shows how to make sustainable nutritional changes, provides whole foods cooking lessons, and revamps kitchen pantries so good food choices are always in the home. Learn more at www.decadesofhealth.com, or catch her on PBS's EatFree TV, a whole foods cooking show teaching simple recipes for cooking healthful meals every day.
Roberta Mittman https://www.robertamittman.com/