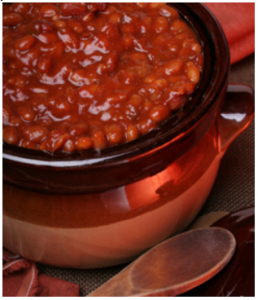 Simple & Easy Baked Beans
2016-07-11 21:20:51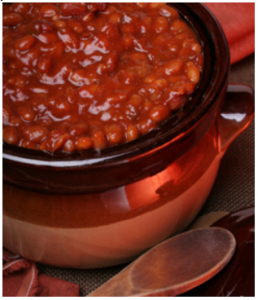 Ingredients
3 cups dried white or navy beans
1 cup dark beer or water
½ cup finely chopped onion
6 tablespoons molasses or Grade B maple syrup
6 tablespoons organic ketchup
2 tablespoons Worcestershire sauce
2 teaspoons Celtic sea salt
1 teaspoon apple cider vinegar
thinly sliced organic salt pork or bacon to cover beans
Instructions
Soak beans overnight.
Rinse beans, drain, and add to saucepot. Cover with water and bring to a boil, then cover and simmer for 45 minutes.
Preheat oven to 250 degrees. Drain the beans and pour into a greased bean pot or casserole with lid. Add remaining ingredients and stir.
Place in oven, covered, for 3 ½ hours.* Remove cover and leave in oven for an hour longer.
Remove from oven, discard salt pork/bacon covering, and serve.
*If beans begin to dry out while cooking, add chicken stock to moisten.
Enjoy hot with your favorite roast pork dish, mix with quinoa or brown rice—and freeze the leftovers for supper later in the week.
Notes
About Margaret
Margaret Lively is a Certified Nutrition Coach and founder of Decades of Health.
Margaret shows how to make sustainable nutritional changes, provides whole foods cooking lessons, and revamps kitchen pantries so there are always good food choices in the home. Learn more at www.decadesofhealth.com, or catch her on PBS's EatFree TV, a whole foods cooking show teaching simple recipes for cooking healthful meals every day.
Roberta Mittman https://www.robertamittman.com/