Eating to nourish and support your skin—your body's largest organ—doesn't have to be complicated. Enjoy this simple, refreshing twist on your next kale salad and get your glow on!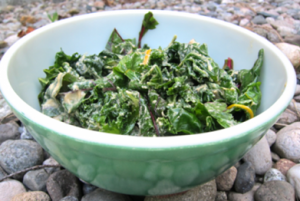 The Best Kale Salad
2016-07-28 10:17:49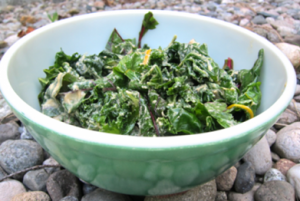 Ingredients
2 bunches fresh organic kale, washed and patted dry
1 packet kelp noodles, rinsed thoroughly
2 tablespoons organic toasted sesame oil
2 tablespoons organic tahini
juice of one fresh lemon
pinch of Celtic salt
organic sesame seeds (optional)
Instructions
After rinsing, remove kale from tough center stalks. (Save stalks for smoothies or juicing.)
In a large salad bowl, tear kale into large bite-sized pieces and massage with hands for 2-3 minutes. (This softens the tough leaves.) Add kelp noodles.
In a small bowl, mix remaining ingredients to create dressing. Adjust to your taste. Dress and toss salad thoroughly. Enjoy!
Notes
About Margaret
Margaret Lively is a Certified Nutrition Coach and founder of Decades of Health.
Margaret shows how to make sustainable nutritional changes, provides whole foods cooking lessons, and revamps kitchen pantries so there are always good food choices in the home. Learn more at www.decadesofhealth.com, or catch her on PBS's EatFree TV, a whole foods cooking show teaching simple recipes for cooking healthful meals every day.
Roberta Mittman https://www.robertamittman.com/