Roberta Mittman's Story
---
"I knew I had reached a turning point when I didn't recognize the woman over 40 looking back at me in the mirror…"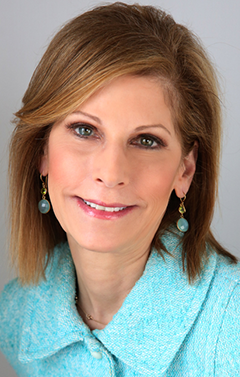 I saw a different person than the positive, vibrant woman I'd always known.. and it was painful.
My body looked less firm. I had bulges around my stomach area and in different places than before. I was fatigued.
I wasn't putting myself out there to make new friends and explore new activities.
I worried about the huge void I'd have to fill when my youngest child would soon go away for college.
I was depressed, unsure of myself, and frankly, embarrassed at how I had let myself go. I had put myself on the bottom of my priority list.
I was also confused about my next steps in life. It sapped my energy. I felt stagnant.
What role would I play when my role of "mother" shifted into "empty nester"? Would I be left behind?
Should I relinquish my dreams and accept this new normal? One without vitality and any meaningful goals or excitement in my life?
I felt depressed, stuck, and scared.
I wanted a productive, fulfilling next chapter where I could make a difference in people's health and lives. I wanted to feel confident about who I was and regain a sense of pride.
And I knew that NOW was the time to prepare to actively pursue a new career and direction. But I didn't have plan.
Could I really start over at this age?
I wondered if I really had what it takes to succeed. Am I too old? Do I have the confidence to break through the fear of doing something new and unknown?
Could I do it physically, mentally, and emotionally?
I wondered how I would stay on track in a new venture that was going to require so much time and energy? It felt hard…
But despite my fears, I decided that just because I was over 40, it didn't mean I had to accept extra weight or low energy or lack of purpose. I didn't have to dim the lights on my passion, health, and drive.
"I decided that wanted more, and I wasn't going to settle for less."
I knew that just because I had a commitment to my husband and family, this didn't mean I couldn't have something exciting and fulfilling that was all my own.
I decided to step out of my comfort zone and start a new career.
A holistic approach has always made sense — it's in my DNA.
My father was a physician and a master of Western medicine with great compassion for his patients. As an inspiring trailblazer, he was also a practitioner of acupuncture before this field was well known in western states.
I knew deep inside that it was my purpose to follow his footsteps in eastern medicine.
So my husband and I sold our house, moved back to the city from the suburbs, and in spite of my fears and insecurities, I took the plunge — I began working on my acupuncture training.
A Holistic Education
Going back to school certainly wasn't easy.
The intensive three-year program required that I take college-level science courses such as biology, anatomy, and physiology.
I LOVED the material, but some days were difficult and frustrating.
Doubts crept in. I was the oldest person in class, which was hard at times… I often wondered if I had the energy and stamina to really do this.
Yet during the course of my training, I realized that I needed to stay open and curious about the possibilities of what I could accomplish (and even change in my life!) with a bit of faith and confidence.
So I pushed through my fears and held tight to my vision of who I wanted to become.
And when I finished my training, I had developed a new confidence that I could do anything I put my mind to. I had rewritten my script of what I believed was possible.

In 2001, I founded the Park Avenue Center for Wellbeing. The Center fulfilled my dream of creating an integrative practice that brought other holistic professionals together. And I'll tell you a little secret — doctors who refer patients to me become my clients too!
While enjoying a successful acupuncture practice, I also became certified in several other holistic modalities, including specialized training in nutrition, allergies and sensitivities, and working with the key emotional components that often lie beneath a particular physical issue.
One of the biggest values of my training was that I got exposure to a wide variety of innovative methods that spanned both Eastern and Western modalities. As I developed my tool kit, I saw that there were so many options available for achieving optimal health.
As I put into practice all the tools I was learning, I improved the quality of my own life and that of my clients.
I used my training in nutrition to create a food and supplement plan that kept me energized, even on the run. I got my body back into shape and dropped three sizes.
I found the strength to believe in myself again and became passionate about helping others find their own source of strength. And my transformation has inspired my clients to do the same.
I now work with clients in-office in New York City as a licensed acupuncturist, and I work online and over the phone doing health, wellness, and life coaching with clients all over the world.
In 2013, my divorce became final. My life as a single woman after a long marriage and grown children and grandchildren was not what I had envisioned for myself in the slightest. In a major life transition, my Personal Rejuvenation Blueprint included a very amicable arrangement with my former husband, a close family structure that is maintained the way I love, new friends, new travel adventures — a whole new life has unfolded. It's a rewrite of my life script … and I'm happily embracing it wholeheartedly.
I continue to reinvent myself and expand beyond my comfort zone. I strive to discover more about myself daily and create a fulfilling, luxuriously empowered life.
The most exciting part of my work has been seeing how clients respond so positively to my sessions. Whether it's pain, emotional stress, digestive issues, immune challenges, or any imbalance present, there is often a positive shift that I and my clients can feel and see through our work together.
Making this kind of difference in people's lives is a true gift that I never take for granted. It has been the source of my greatest joy.
The right blueprint
It has been empowering to see that out of this rich toolbox of innovative methods, I can create a blueprint that suits my clients' needs, goals and lifestyle. With the right blueprint, incredible levels of healing and transformation are possible.
The right guidance
As I look back on my journey, I know that having the right mentors to guide me step-by-step while building my new career and rebuilding my health made the process so much easier.
The right support coupled with a doable, step-by-step blueprint customized to my specific needs and goals are the key ingredients that set me up for success.
I am deeply committed providing the same for my clients. I believe, and know firsthand, that with the right blueprint and support, it IS possible to create the health, wellness and life you want.
Your Own Quiet Revolution Has Begun
Step-by-step, I transformed my life. It was the start of what I call a "quiet revolution". I did it — and you can too!
I'm excited to show you how to make optimal choices and reinvent yourself from the inside out, so you can create the health, wellness, and life you truly want.
I want you to experience life feeling trim, vibrant, abundant, unstoppable, and full of possibilities!
It would be my pleasure to lead you on your own personal revolution. It's never too late.