Something about the blue skies and sunshine of summer ignites a sense of curiosity and a restless need to do something different. I hope you've set aside a bit of time off in the coming weeks to take a much-needed break from the daily routine. (No? Go put in that notice now. I'll be here when you come back…)
Planning to spend your vacation at a quiet getaway far from the noise and bustle of the city? Or perhaps you're looking forward to kicking back and catching up with those near and dear at your family summer home. If you're the adventurous type, maybe your plans include exploring a place new to you and soaking up some unusual cultural experiences.
Whatever you choose, maintaining energy and keeping your body strong will help you make the most of your time away. A savvy, wellness-minded traveler—that's YOU!—can do a lot to prevent the return home from being burdened by unwanted souvenirs like illness, extreme fatigue, or extra weight.
I travel a lot throughout the year, and I've come to realize that like making reservations, setting an itinerary, or buying tickets, taking charge of my health when I'm away from home is just a matter of planning ahead.
Travel Must-Have #1: refillable water bottle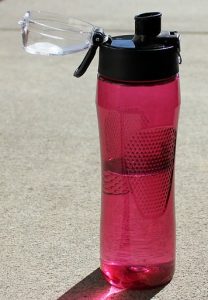 The pressurized air inside an airplane cabin can be very dehydrating, but the caffeine found in soda, coffee, and tea prevents those drinks from giving you back much of the water your body has lost. Don't take a chance on finding pure, refreshing, unsweetened, non-caffeinated water in an airport vending machine—but forget trying to carry bottled water with you when you check in. Instead, pack an empty water bottle in your carry-on. Most airports will allow you to fill it at the water fountain once you've passed the security check. A sturdy, washable, reusable bottle is a very small and very wise investment—remember, you'll also need to fill up before you leave your hotel for adventures each day.
Travel Must-Have #2: energizing snacks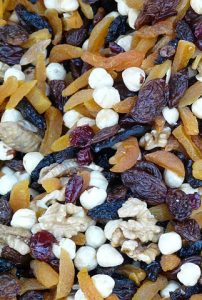 What I just said about vending machine drinks? That goes double for quickie food. Don't count on getting a square meal (let's face it—there's often no meal at all) if your vacation plans include airline, train, or bus travel. Your best bet, no matter where you're headed, is to bring some on-the-go fuel with you. When planning your snacks, look for foods that can provide you with the protein, fiber, and healthy fats your body needs. Whole fruits and unsalted nuts are satisfying, neat, and easy to pack, too! You'll find smart energy bar choices out there as well—just read the labels carefully to be sure you're not getting a lot of sugar or other additives along with the good stuff.
Travel Must-Have #3: allergen-control pillowcases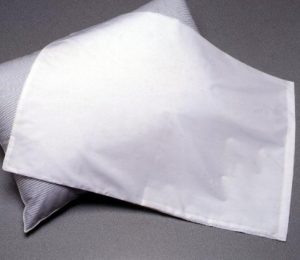 Okay, we all know we have no iron-clad guarantee of a good night's sleep in an unfamiliar hotel bed. But I'm all for upping my odds when I can—and that means safeguarding against breathing in dust mites, mold spores, and other common irritants all night long. Nothing at all is over the top about packing your own allergen-preventive pillowcases. I do! Waking up refreshed and rested with clear sinuses and free breathing is well worth the little extra effort.
Travel Must-Have #4: body-system defenses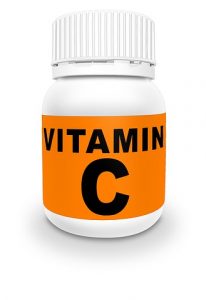 In 2015, a study by a microbiology team found that while airports in general harbor all sorts of nasty germs, no area they swabbed was filthier than an airplane tray table. Ick! Obviously, it's not a good idea to let anything you eat touch other surfaces (and especially not those convenient but germy fold-down tables). But I think the lesson here is much wider: Every time we go somewhere unfamiliar, we are naturally exposed to a wider range of potential wellness threats than our bodies normally encounter.
Assuring that our bodies are well-defended just makes sense. For immune support against all those public-place germs, I always add a generous daily vitamin C supplement to my routine while traveling and I wash my hands even more frequently than usual. Products are also available that can help minimize the effects of other potential threats to our wellbeing. I like the Q-link band, which defends against radioactive waves such as those emitted by flight-control equipment (not to mention the hundreds of cell phones carried by crowds of fellow travelers). I also use Apex Energetics' Bioclock Regulator, a formula designed to help the body adjust to time changes and stand up to jet lag.
Travel Must-Have #5: self-awareness
No, you can't pack this one neatly into your suitcase—but just the same, I recommend you "don't leave home without it." It will serve you well during your trip and equally well after you've returned to the steady rhythms of your everyday life.
In the weeks or months before your getaway, you've made strides toward your wellness goals such as weight loss, better food choices, relief from pain, regular exercise, increased energy and mobility, solid rest at the end of the day, etc. Don't let the difference in routine during your vacation distract you from those long-term objectives.
To keep focused on that grand prize—optimal, vibrant, elegant pain-free living—start your daily vacation agenda with a little self-care. Set aside time to participate in a completely self-focused activity first thing each day that you're away. For example, a bit of early-morning journaling, meditation, or yoga, or a quick workout in the hotel gym or pool can be just what you need to remind yourself of what you ultimately want to achieve. With that in mind, you'll be prepared to make good choices no matter what challenges or temptations (overly rich, exotic drinks and desserts, anyone?) you might face in the day ahead.
All packed and ready to go? If you could use a hand plotting your course toward good health and good fun during this bright, lively time of year, please do call me at 212-686-0939. I wish you an inspiring and joyful vacation season!