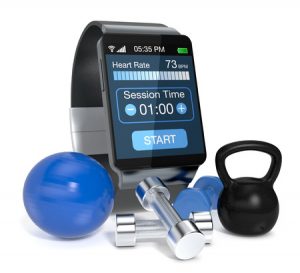 A lot of information has been released over the past few months about fitness tracking devices, and sorry to say, much of it really isn't very good news.
One study found that the measurements a particular tracking model takes can be wildly erroneous, giving users a false view of how much they're accomplishing. Other studies have concluded that even when a device is accurate, people who use it don't get to their goals any faster or better than those who don't.
Sigh. Maybe you're shaking your head in disappointment, too.
But then take a deep breath, because I'm about to tell you something entirely different: I firmly believe that many technologies are great choices to add to your wellness toolkit.
Yes, it's true that technology can fail us. Just a quick look at everyday life reminds us that no gadget is foolproof. (Sorry, I'm not getting any bars….) Fortunately, as consumers, we have modern communications on our side. Those devices that don't do what they claim? A quick trip around Internet sites that review and rate new products exposes them, hopefully before we buy.
And remember, too, that even if you choose a top-rated, super-accurate and reliable fitness product, using it in a way other than intended will net disappointing results. (Wink: "Read the manual" is always a great first step.) User error doesn't reflect poorly on the world of fitness technology as a whole.
Let's take a few minutes to explore some of the many ways new technologies can—and can't—help you on your quest for a strong, energetic body.
Try on a wearable fitness tracking device for size.
Dozens of products are out there now designed to measure many kinds of data: how many steps you take, how fast you're jogging, how many minutes you've put into today's workout, how long you've been still, your heart rate, your blood pressure, the number of calories you've burned…
Before you commit to a particular device, think about what information you really need. That will be related to your fitness goal: Are you training for a long-distance run? Do you seek to stave off a particular disease or condition that runs in your family?
You're much more likely to reap benefits from a personal fitness device if it gives you exactly the kind of "news you can use"—and not overwhelm you with excess data.
Supercharge the devices you already have with new apps.
You don't always have to strap on a wristband to get the power of up-to-date information. You might benefit more from simple (and often free) apps that are designed to run easily from cell phones or computers. For example, are you a "desk jockey" who needs a reminder to get up from the computer at least once per hour? As the popular commercial said, there's an app for that.
Depending on your individual goals, here are just a few of the many types of wellness-forward apps you might consider:
restaurant locaters that allow you to search by food type, such as locally sourced, gluten-free, international cuisine, organic, vegan…
personal diet recorders that help you track your intake of sodium, fiber, etc.
daily inspiration or motivation message generators
alarms that can be customized to remind you when it's time to take medication, eat a snack, move an injured joint, or drink water
meal planners, some with built-in recipe, shopping list, and ingredient locator functions
Check with your physician for suggestions also. Some doctors today may use specialized apps to communicate, set appointments, or monitor patients with chronic conditions.
Identify your ultimate goal, and keep on the path that leads toward it—with or without "technical assistance."
So, you've calibrated your new pedometer. You've also verified that it's recording your movement correctly by actually walking around, counting off exactly 100 steps—the same 100 that show up on the device. Whew!
Now, what are you going to do next?
I hope you said, "Walk more," loud and clear, because regardless how accurate a new gadget is, it won't meet your goals for you.
Using wellness technology is a strategy, not a complete solution. A fitness app can give you hard numbers that help you understand how far you've come and how far you have left to go, but recognize that data is only part of the big picture. In the end, your own motivation and perseverance are what ultimately fuel positive change.
Be vigilant regarding the danger of too much data, too—and subsequent disappointment. This is all too often a pitfall when weight loss is the goal. When only pounds dropped are recorded, it's easy to get discouraged and overlook benefits that aren't so easily tracked, such as better quality sleep, increased energy, reduced joint pain, or a looser waistband.
Super-advanced measurements and high-tech monitoring can certainly have their place in the much larger wellness picture. Need a hand choosing which tools may help in your quest toward more vibrant, fulfilling living? Click here to schedule a complimentary consultation. I would be honored to help you bring YOUR wellness picture back into focus.